Spare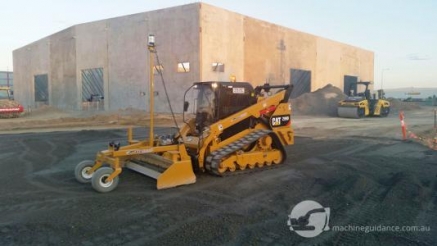 1
Civcorp Pty Ltd, a Brisbane based company, specialising in a diverse range of civil construction and infrastructure services to clients, is committed to meet the needs of each client and their projects, large or small, and has provided a high level of service and quality workmanship on a range of projects throughout Queensland and northern New South Wales.
Engaging with and delivering projects to large builders, developers and government organisations, the Civcorp team is committed to creating and maintaining strong industry networks with suppliers and clients. These strongly established links enable Civcorp to deliver a project on time and on budget.
David Kerrison, Director of Civcorp has led the company on a path of excellence and growth since first opening the business in 2005. David's extensive background, with more than 20 years in the construction industry, has played an important part in inspiring and energising personnel within the Civcorp group, all whilst remaining in a hands-on role, and still delivering projects on time and within budget.
Since taking delivery of their first GPS Rover, Civcorp have become a machine guidance power user with their most recent purchase proving to be a huge success. Civcorp has just completed a project for FK Gardner and Sons, which involved the construction of a new shipping container storage and warehouse facility for Visa Global Logistics (VGL) located on the banks of the Brisbane River within the Port of Brisbane precinct.
With a history of 3D positioning technology going back several years, Civcorp turned to the expertise of local distributor, SITECH Construction Systems (SITECH CS) Sales Rep Colin Blackmore who's advice was to purchase the Trimble GCS900 Final Trim Solution, to deliver this project.
The site was 19000m2 in size and involved a range of civil and building components which Civcorp undertook, including the construction of a new building pad, a cement stabilised hardstand which housed a prestressed concrete deck, internal stormwater drainage, water main modifications, a new fully landscaped bio-retention basin and new access connections to the Port of Brisbane road network.
Spare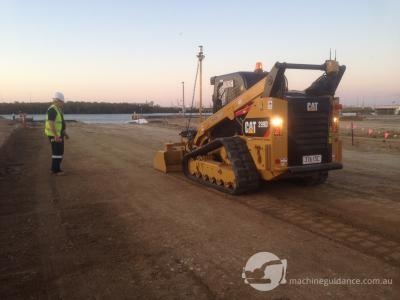 2
We had been approached by Civcorp to set up a 3D final trim solution for their Level Best Blade previously, but we were waiting for just the right project to come along. This one was the perfect one and the results speak for themselves, said Colin.
The Trimble GCS900 Final Trim Solution for our Level Best Blade has again hit the mark, allowing us to trim 1000m² of CTB in three and a half hours with just one person! This would normally take us a full day with two staff and an operator running stringlines off survey pegs. Now I have two spare workers that can be working on another component of the project, commented David.
Civcorp were required to trim the cement stabilised hardstand 300mm below Finish Level to allow for the concrete deck and actually averaged 306mm below when the QA survey was completed. Implementing technology like this into our business has been tremendously beneficial for us, and with the easy service and support provided by Colin and the SITECH team, we are onto a winner all the way said David.
Being their first project for FK Gardner and Sons, Civcorp is pleased the system worked so well, and even went on to say that the FK Gardner Project Manager was also suitably impressed.
Spare
Credit Source
Article courtesy of SITECH Construction Systems - your Trimble construction technology provider for Qld, NT, Vic, SA, Tas and PNG. Find out more at www.sitechcs.com.
Return to Articles