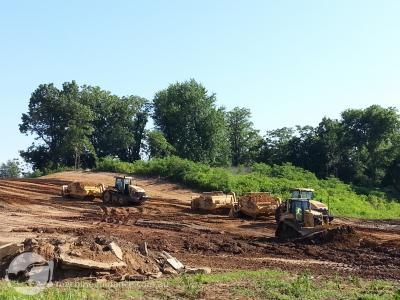 Text 1
Rain. It sure makes stuff grow ... crops, flowers, lawns, and, unfortunately ... construction schedules.
"When we started the project we were confidently planning on completing it in 45 to 60 days," states Kevin Grant, project manager with Envision Contractors LLC, Owensboro, KY. "With the persistent rain we've had for the past month, our schedule is growing closer to 90 days."
The project Grant references is a 12-acre site prep project in Owensboro for the new location of the city's Rural King Farm and Home Supply store. The new 10,000 square meter store will be twice as large as the old one and is located next to the United States' Route 60, which creates a beltline highway around the city.
"With the rain, we really have had to hustle on the clear days," said Grant. "There is no margin for error, which means we need to accurately achieve grade in one pass with our three dozers and a motor grader."
The grading machines Grant's crew of four uses are all equipped with GPS/GNSS grade control systems.
"We wouldn't be anywhere as efficient and accurate without the technology," Grant states. "To be honest, if I was told I need to go back to stakes and survey crews, I'd be out the door - we've been using GPS machine control since 2006 and it has become integral to the efficiency and quality results we base our reputation on."
The Rural King site was formerly soybean and corn farmland. Beneath the top approximately foot and a half of farm soil is moisture-retaining silty clay, typical for the region. Envision added cement stabilizer while grading the store's building pad, to ensure stability for the structure.
The site had a hill, which was leveled. The hill provided about 23,000 cubic meters of borrow used throughout the site. No additional soil was required.
In addition to the building pad, Envision constructed 23,000 square meters of parking and landscaping surrounding the building, and a 180 meter road extension leading to the facility.
Grant worked with Glenn Etienne of Construction Engineering Solutions, Leopold, IN. to create the digital model of the roadway extension, in conjunction with Envision Contractors' own modeling software. The digital model facilitated the use of machine control.
In total, the company moved 65,000 cubic meters of soil. They used two Caterpillar D6N LGP track-type tractors and a Cat D5N LGP track-type tractor. All three dozers were equipped with Topcon 3D-Millimeter GPS+ machine control that combines laser and GPS capabilities. A Cat 120H motor grader equipped with a Topcon 3D GPS+ auto control system was also used on the project.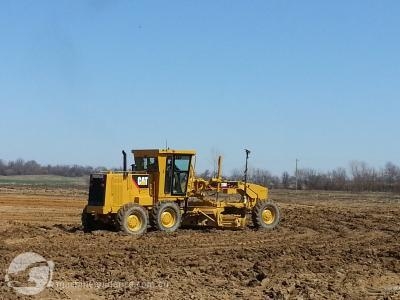 Image Left - Grader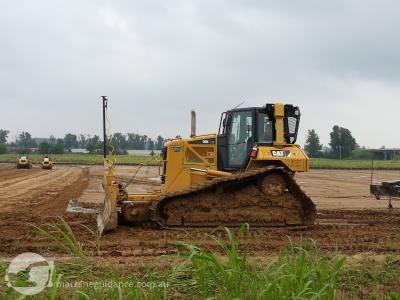 Image Right - Dozer
Text 2
Envision also used two handheld Topcon GRS-1 GNSS receiver and field controllers, and three Topcon Tesla RTK GNSS rovers as construction grade checkers to perform the field calculations.
The Rural King farm and home supply store project fits into Envision Contractors' expertise niche. The company was founded in 2003 and has four production divisions: (1) site development, (2) general commercial construction, (3) new and replacement gas line construction, and (4) specialized concrete, such as curb and gutter. All four areas were employed on the project.
Envision has about 50 employees and has a significant presence in its local geographic market where it principally works within a 150km radius of Owensboro. On the Rural King farm and home supply store project, Envision has four employees dedicated to completing the site development and relied on product support from its local Topcon dealer.
"The efficiency of the technology equipped machines is key to our ability to running productively and achieving exacting results in one pass," Grant said. With this project - as with all of our projects today - there is no time for errors ... rework is too costly."
Asked how he would have handled the project differently without machine control Grant states: "We'd be losing money on the project since we'd need two more employees on the site, another dozer, and all the survey time. It would take probably 30-percent longer without the technology."
And, then, the weather created unwanted delays.
"When we started the site development project, we expected to be completing the project much sooner than we are with all the rain delays we've been experiencing," Grant says. "Any clear days we have, we need to maximize our productivity. Clearly, here's where the machine control systems really helps. The operators can hop into their dozers and have the plan right there on their screens and know exactly what needs to be done."
In its tri-state market, Envision Contractors has developed a reputation as being a technology leader. It's not uncommon for allied subcontractors on a jobsite to ask Envision for help in identifying points. They know that Envision has ready access to the digital site plan in the machines and their rovers.
"We won the Rural King contract not only because of our price but because we have a technology advantage with the GPS systems that others don't," Grant concludes. "Even with rainy weather delays, we're getting the job done quicker than others could and achieving the quality results they expect."
Credit Source
Jeff Winke is a business and construction writer based in Milwaukee, Wis, USA. He can be reached through www.jeffwinke.com.
Return to Articles