Spare
1
In life, taking that first step in a new direction is often the hardest.  To do it right, requires knowledge and guts. This truism applies to personal and business life.
The construction contractor faces major, tough decisions regarding which markets to pursue and when is the best time to invest in big pieces of equipment. When handled properly, investing in heavy equipment can open doors of opportunity. Yet, each machine requires fuel, maintenance, insurance, and a capable operator. The purchase decision is important.
For the grading and excavation site prep contractor, there is another big decision facing them today. It is more than a yes-or-no purchase decision. True... it is a financial purchasing choice, but it also a business decision that pivots the contractor in a new direction or more specifically, a new operational approach to conducting business. It also is a decision that earthmoving contractors are learning is becoming inevitable. And at the risk of being dramatic, the choice may be as significant as world changers of the past-horse-drawn carriage vs. automobile and typewriters/adding machines vs. computers.
The big decision facing earthmoving contractors today is whether or not to embrace GPS machine control technologies. For many, the decision is not whether, but when, to adopt the technology and how quickly. For them, GPS machine control technology is considered an inevitability.
Hoban Equipment Ltd., based in British Columbia, Canada, recently went through the decision process and metaphorically went from a stroll in the park to a sprint by investing in 13 Trimble GCS900 Grade Control Systems at once.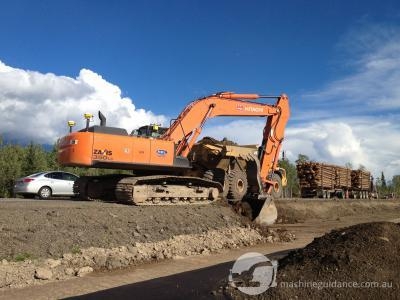 LHS Image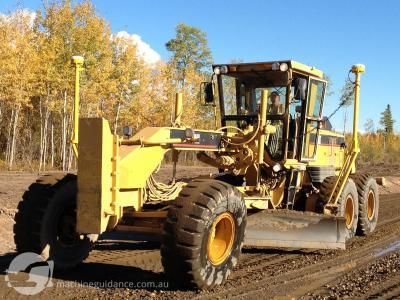 RHS Image
2
 
 
 
 
 
 
 
 
 
 
 
 
 
A mid-sized construction company with about 200-250 employees and an equipment fleet of more than 200 machines, Hoban Equipment's significant investment raises questions:
¬ē¬†What prompted the purchase decision?
¬ē¬†How did it come about?
¬ē¬†What research was done?
¬ē¬†How will the technology help?
"Our success is due to people and technology," states Will Hoban, owner of Hoban Equipment Ltd., Salmon Arm, British Columbia. "We've learned that good equipment and newer technology helps bring the better operators to the company and helps us be profitable."
In 2001, Hoban and his brother joined the then half million dollars family business and committed themselves to growing the business. They have become a full service contractor, providing earthworks, underground, the crushing and aggregate supply as well as the paving through a different subsidiary company of ours.  Hoban reports that they try and self-perform as much as possible in order to keep everything in house. The company earnings have grown to $20 to $30 million annually, although for 2012 the final figure will be in the $40 to $50 million range.
In a sense, the recent, large investment in technology fits into Hoban Equipment's commitment to significant business growth.
"We spent two years reading reports, studies, and trade magazine articles as well as visiting suppliers at ConExpo and locally," Hoban says. "We also had a big project in Regina for a significant customer, CP Rail, and the tolerances on the project were the tightest we've ever seen-plus or minus one centimeter on clay sub grade.  By this time, I had done a little bit more research on the systems and which ones to try out, so we contacted our local Trimble dealer and they were awesome.  They came out; they set the system up; and had us running within three days on the grader."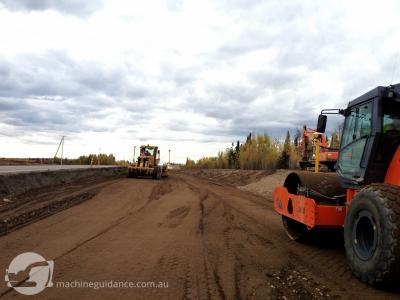 3
The Trimble dealer also took the site plan and created the digital 3D model, which had all the correct data for the machine control for Hoban Equipment's motor grader.
We were achieving incredible accuracy, which made me pretty happy," states Hoban. "The grade was dead on, plus we saw a huge increase in time savings, especially when we were grading the clay sub grade."
Hoban continues, "I stepped up my research on GPS machine control and the benefits and how it could help a company and I read lots of reports, I bought some of the efficiency studies that had been published, and read all the application story articles posted on the Trimble Productivity website.  They all showed significant time and cost savings for construction projects."
Additionally, Hoban had been following a competitor that had invested in machine control technology in 2007. He observed that in competitive bids for new work, the contractor's bids were quite a bit cheaper than their competition. Hoban concluded their GPS machine control was making a difference.
"In the midst of my research, I was realizing that fuel savings and labor savings alone could offer a pretty quick return on investment over a two or three year period," Hoban says. "In our experience with the systems, my initial conclusions are holding true."
Hoban purchased 13 Trimble GCS900 Grade Control Systems and had them installed on diverse pieces of equipment that include three motor graders, two bulldozers, two scrapers, two dirt packers, and the rest on hydraulic excavators.
"We've had the Trimble systems for less than a year now and we're currently prepping subgrade on a project and we're within three millimeters of design using a big dozer in clay coil," states Hoban. "The Ministry of Transportation in British Columbia is just ecstatic."
4
The project is Highway 97, Old Caribou Highway, part of the Caribou Connector Project in British Columbia.
Hoban continues, "Historically, what we've had to do is build it higher, about a deck higher, and then bring in a grader to finish clay sub grade to get it accurate... and we're never that accurate.  We're lucky to get plus or minus two to three centimeters and with the GPS-based system we're plus-minus half a centimeter on our target.  This is also using a brand new machine, a really tight machine, but without the system, we couldn't do it.  We're completely stakeless on the whole project as well."
The $9 million portion of the $17 million Caribou Connector Project that Hoban Equipment is working on is a four-kilometer stretch involving about 225,000 cubic meters of excavation on the project and 100,000 cubic meters of granular materials.
"Having machine control on our equipment has definitely helped us speed up our production," Hoban says. "It depends on what stage we're at with a project, but in many cases we're looking at literally a 50 percent increase in productivity when we have a good operator in the machine who appreciates the technology."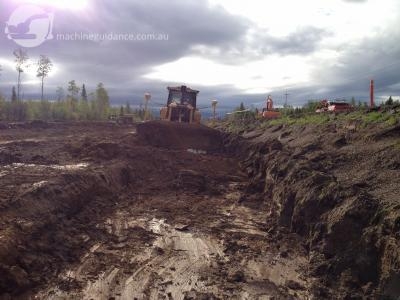 5
Hoban recounts an experienced 70-year-old dozer operator on his staff that initially resisted running a machine with GPS machine control.
"My superintendent, who is less than half the operator's age, smartly enlisted his 60-year-old buddy, our excavator operator, to operate a dozer with the Trimble system's automatics fully engaged," says Hoban. "He put both of them on the job-the 70-year-old in a machine without the technology and the experienced excavator operator, who was now a dozer operator running the machine in fully automatic mode. Keep in mind that the 70-year-old is one of the best dozer operators I've seen and so he was feeling confident as he cut to design real close, plus-minus three centimeters. But when the excavator operator got into the dozer and started cleaning up some of the slopes and getting extra material but not going over design, it became clear he was hitting the design spot on and was getting us the money that we wouldn't have without machine control."
According to Hoban, his 70-year-old dozer operator saw the results and how easy it was for his friend to learn.
6
"He learned how to run the dozer with machine control and loves it," Hoban states. "When he gets home at night he's not stressed out or tired or drained mentally because the machine is doing a lot of the work for him. He said something about waiting another 30 years before retiring. If he continues doing as great a job as he's doing, we'll gladly keep him until he turns 100."
For Hoban Equipment Ltd., investing in 13 GPS machine control systems at once represents evolution and a business shift. It's a whole shift in attitude and work methodology. 
"My goal is to equip all my machines with Trimble technology and add connected site capabilities, so we can get accurate field reporting data," states Hoban. "We've always been a company that is attracted to jobs that most contractors find too challenging and the technology helps us meet the challenges, such as working in clay."
The geology of British Columbia is predominantly rock. Contractors in the Canadian province have geared their construction equipment to work in rock.  With machine control technology, Hoban says that they now feel confident to bid on either rocky or clay terrain projects.
"The technology has helped us become more competitive and has been probably been one of the biggest edges we've had in securing more work in clay materials," says Hoban. "So, we're definitely pushing the outside the box compared to some of the other people that are running the same types of equipment on the same projects.  We're doing our work differently which has lowered our cost of producing and I'd say Trimble's made that happen with the accuracies we're achieving and virtually eliminating rework."
When you ask Will Hoban about the tough decision to embrace GPS machine control technology to move his company in a new direction, he minimizes the drama.
"We researched the machine control options thoroughly and concluded that Trimble would work best for us," concludes Hoban. "It may seem like a big deal to purchase 13 systems at once, but once we knew what we wanted we didn't want to delay receiving the productivity, accuracy, and economic benefits. We jumped in and have no regrets."
Credit Source
 
Jeff Winke is a business and construction writer based in Milwaukee, Wis, USA. He can be reached through www.jeffwinke.com.
Return to Articles