1
CORS (Continuously Operating Reference Stations) are a network of permanent positioning devices that work similar to a GPS base station to track and transmit satellite correction data. In NSW, the state government has established a CORS network called CORSnet-NSW which is available for public use by subscription.
Ford Civil is one of the first civil contracting companies in NSW to use CORS network technology to give high accuracy GPS positioning across all earthmoving activities.
As part of a wider program to improve efficiency and cost-effectiveness of rail freight services between Melbourne, Sydney and Brisbane, the SSFL is a 31 km long dedicated freight line between Macarthur and Leightonfield in southern Sydney, currently a major bottleneck area.
The project will deliver a third track in the rail corridor specifically for freight, allowing passenger and freight services to operate independently and reducing congestion. Construction of the Casula Access Project, which will provide vehicle access to the line alongside the Georges River, involves around 60,000 cu m of cut and fill along a 2.5 km route.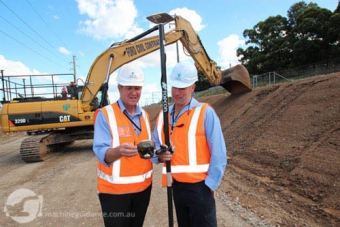 2
According to Roddie Elder, Ford Civil's project manager on the job, it's a complex project involving general as well as structural fills, along with special liners and retaining walls to cope with challenging ground engineering requirements.
"When we looked at the job, because of its scope, particularly the earthworks component, we decided there was nothing else for it but to invest in some new Topcon GPS systems to run it," he said.
GPS machine controlled plant on the project includes a CAT 140H grader fitted with Topcon's 3D MC system, and two excavators, a Cat 329D and a 321D fitted with Topcon's X63 system, plus a number of Topcon GRS-1 rovers which can either be handheld or mounted in the foreman's car.
In addition, Ford Civil opted to go with Position Partners' new AllDayRTK CORS network offering (running through NSW's statewide CORSnet network), which saves the company having to bring in its own base stations to run the machine control and GPS survey systems.
"CORS networks give us a number of advantages," said Elder. "Initial set up is much easier, because we don't have a base station to worry about, plus the system is ready to go immediately. You don't have to set it up and set a course, then dismantle it each day. With AllDayRTK/CORSnet, there is none of that.
"In addition, the AllDayRTK/CORSnet network allows us to use our files over a very wide area - far wider than with a single base station. For argument's sake, we could be doing a job out at Liverpool and the same file could be taken to, say, a job at North Sydney or North Ryde or wherever, and we could just pick it up the same job over there, and start again," he said.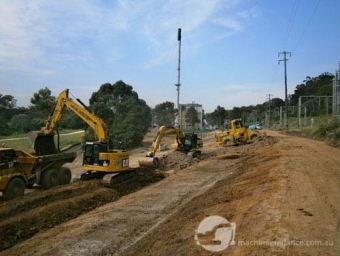 3
"Certainly there may be times where we will go back to a base station, but the CORSnet solution works very well for us on this project.
Elder said that on this project, Ford Civil has been "delighted" with the way its leading hands and operators are picking up the technology and run with it.
"They've got the design file in their machines or on their hand-held rovers, and they can pick up everything: where the batter edges are, the drainage pits, and so on - they can see it all on the screen.
"One of our older operators has really embraced it; it has given him the opportunity to see the whole job in 3D as distinct from the old batter boards and string lines, so he can actually see in advance what he is trying to create. It creates a picture, a model in the machine, so it's providing significant benefits and real advantages and it's all in real-time.
"If there is a problem, all our operators have two way radios and can call the foreman and, if they need to check, they have rovers as well, so the whole system lends itself particularly well to this kind of job," said Elder.
End Credit
End Credit
Find out more about CORSnet-NSW from NSW Government Land and Property Information.
Article courtesy of Position Partners Machine Control e-News (April 2012).
Return to Articles
Return to Articles