Spare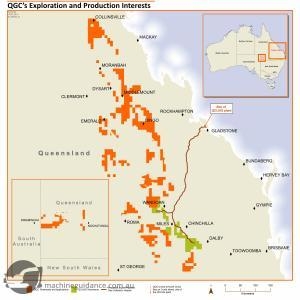 2
Murphy Pipe and Civil is no stranger to creative problem solving. The company's work for QGC to install upstream gathering pipelines for the Queensland Curtis LNG (QCLNG) Project in south-west Queensland has required innovative solutions to unique problems, including the adaption of marine guidance software to ensure its fleet of Spiderploughs could accurately install pipelines using mobile GPS base stations.
Spanning across tenements that cover about 4,500km2 of the Surat Basin, gathering works for the QCLNG Project continue to expand. The first of its kind, the project is converting natural gas from coal seams into liquefied natural gas (LNG) for export. First LNG production in December 2014 marked four years of project construction that saw expansion of QGC's existing natural gas processing facilities in the Surat Basin and construction of a 540 kilometre buried pipeline network to link those facilities to a new liquefaction plant on Curtis Island, near Gladstone. The benefits of the project for Queensland and Australia are significant and include job creation, investment and economic growth and production of a cleaner hydrocarbon resource for use globally. 
Murphy Pipe and Civil (MPC) is a well-known Australian pipeline construction company for the energy, water, and mining sectors. MPC is currently constructing for the QCLNG Project, the network of pipelines that connect QGC's wells to its gas and water processing facilities and will become the largest network of gathering HDPE (High Density Polythene Pipe) pipeline in Australia. 
MPC's Construction Manager Tom Flanagan describes the progress of the project, "Since April 2012,  MPC has laid more than  3500+ km of HDPE pipe across QGC's upstream gas gathering network. This includes more than 180,000 pipe lengths and 200,000 welds."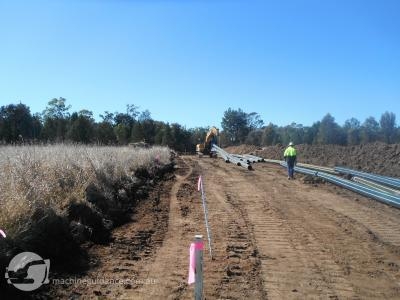 3
Depending on the landscape, length and width of the pipeline easement, and ground conditions, MPC utilises a combination of methods to lay the pipeline. Whereas the more traditional trench and bury method is carried out with excavators, a new innovative method developed for this challenging project employs the company's fleet of Fockesperger Spiderploughs which plough the ground and install  the pipe without the need for any open trenches. 
Typically used in small gauge pipe and fibre optic cable installation, MPC has extensively modified the Spiderplough to accommodate HDPE pipelines up to 630mm. Guided by Trimble HYDROpro software (for marine applications), the plough is attached to cable winches and pulled forward enabling an attached steel chute to open up the ground while HDPE pipe is automatically inserted in a single pass. The sum volume of displaced soil quickly re-settles and is lightly graded. 
This method greatly minimises environmental impacts because it does not disturb soil profiles or mix subterranean and non-subterranean soil types and also enables far quicker pipeline installation compared to traditional methods. As a result of there being no open trench at any time during installation, risks to people, stock and wildlife are eliminated too. 
4
The plough is used on approximately 75% of the pipeline required for the QCLNG gathering network. The plough is very efficient, particularly on short linear runs and complements the company's fleet of excavators and trenchers which manage conditions such as rocky soil. 
MPC works with SITECH Construction Systems (CS) to provide the right Trimble guidance systems, relying heavily on their ability to run heavy machines accurately and efficiently. Clear and grade dozer guidance is achieved with Trimble GCS900, as are conventional trencher excavations. Pre-rip dozers and supervisor reference systems are guided by Trimble SCS900; roller compaction pass counts are recorded and monitored via Trimble CCS900. 
For the plough, the most suitable guidance software was determined to be marine software-Trimble HYDROpro Construction software for dredges. HYDROpro software running on a Trimble Tablet provides the plough operator with 3D guidance to a pre-determined design line. Guidance hardware includes two SPS85x GPS receivers: one as a moving base and the other for heading. The system also employs a bi-directional angle sensor for pitch and roll adjustments. The system ensures the pipe (or dual pipes) are laid to the correct horizontal alignment and depth of cover.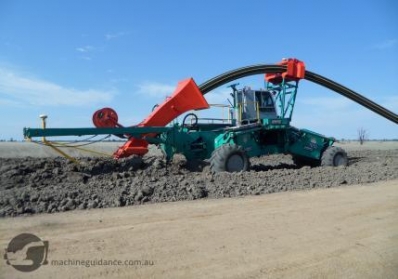 5 - Image LHS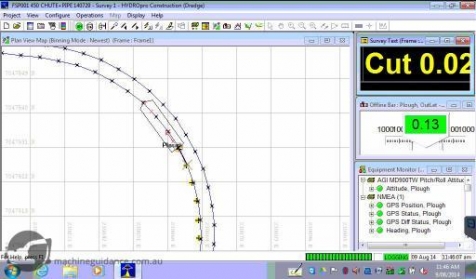 6 - Image RHS
7
The size of the area where pipeline is being laid also offers some unique challenges and constraints to generating position corrections, especially when compared to a typical construction site. 
"We need constant positioning correction to run all our positioning devices for the life of each working field," says Steed Shepherd, MPC's Machine Guidance Manager and director of Machine Control Survey Services. 
The project covers a large area with three work fronts spanning more than 350km with crews moving within all these areas. 
"Sites are fairly fast moving," says Shepherd. "For this project we might be in one work front for six months compared to a road construction site, which might stay put for a couple of years. Work takes place in narrow corridors, often on private properties, and crews must stay within these construction corridors at all times," says Steed. 
"We don't get a 10km2 paddock to work in; we get a 20-30m wide corridor running through the paddock."
When installing a GPS base station to provide corrections, Steed and his crew must stay within this defined corridor unless special permission is granted by the landowner. This constraint often prevents Steed and his colleagues from installing the base (or repeater) in the best geographic location, and leads to a need for more base stations overall. Instead of one base station installed in the optimal location, the crew might need three or four. For this reason, and because sites are only live for up to six months, concreting in a permanent GNSS base installation makes little sense.  
Having worked with SITECH CS for a number of years, MPC partnered with them to address this challenge-by constructing a GPS base station that could remain in place for an extended period, but then be moved to a new location when necessary. 
"Rather than setting a new one up every day on a set of legs, we wanted something a bit more permanent, but not completely permanent," says Steed. 
They eventually innovated with a transportable and secure custom trailer.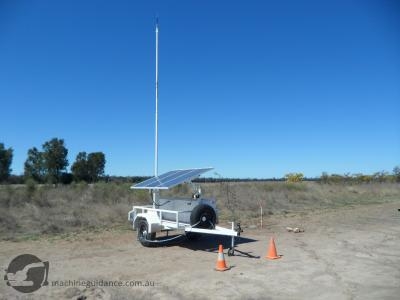 8
The mobile GNSS base station begins as a typical box trailer. But then a half toolbox for storing survey equipment is built on to it, along with a tilting solar panel to generate power.  All the wiring, timers, and regulators needed to switch the power off at night, to allow batteries to maintain charge, are included. Two onboard 12v batteries keep the base running for up to about five days if there is no sun during that time- which is unlikely in Queensland, Australia's "Sunshine State". The expensive base hardware is securely housed, and an extendable radio mask is included. 
MPC's mobile GNSS base stations have proven so successful that the company now has 14 trailers in use. Twelve of these are operating as repeaters, due to radio transmission challenges caused by distance and vegetation, but all are able to function as either. MPC also has four permanent concreted base stations. 
While the QCLNG Gathering Project continues to expand, MPC expects to construct even more mobile systems in the near future. And MPC, with partner SITECH CS, will continue thinking outside the box (trailer) in order to get the job done, whatever challenges come their way. 
9 - Spare
10 - Credit Source
Article courtesy of SITECH Construction Systems - your Trimble construction technology provider for Qld, NT, Vic, SA, Tas and PNG. Find out more at www.sitechcs.com.
11 - Return to Articles