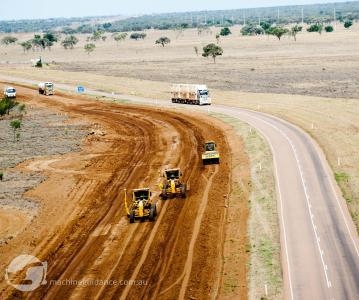 1
Anyone in Queensland (Australia) will remember the state cyclones and flooding of 2010 and 2011 all too well. Although it'll take many years to repair the damage, thanks to 'Operation Queenslander', the largest reconstruction effort in Queensland's history, much of this work is already making great progress. 
Seymour Whyte Construction, in a joint venture with French construction firm Bouygues Travaux Publics, was awarded the Landsborough Highway rehabilitation, from Barcaldine to Longreach and a section just south of Tambo, one of the major projects making up Operation 'Queenslander'. Repairing 117 kilometres of flood-damaged road smack bang in the middle of Queensland in eighteen months isn't the simplest of tasks, so recently we caught up with Tom Williams, Survey Manager for Seymour Whyte, to find out just how he and the team tackled it head on.
Q: Tell us a bit about your use of machine control on the Landsborough job and what it enabled you to do.
Tom, "The Landsborough Highway project was a big one to bite off and, after seven years experience with machine control, we knew from the beginning we wouldn't be able to do it without it. We used subcontractors for the work and we made the call at the beginning that they all had to be fitted with 3D machine guidance - some already were and the others that weren't, we arranged to be fitted. We ended up with fourteen graders fitted with Trimble GCS900 grade control.
"If we didn't have the machine control, we would have had to double the size of our survey crew on the ground to carry out pegging and grade checking. Even then we still wouldn't have done it in the timeframe. Landsborough Highway ended up being a truly pegless site."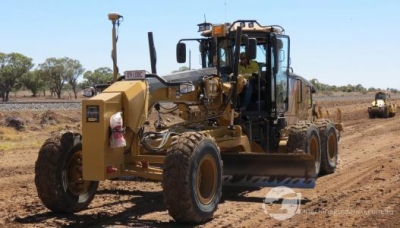 2
Q: What were the benefits of having all the technology uniform?
Tom, "The beauty of having everything on one machine control system was twofold. First of all we only had to make up one set of data because everything was operating off the same technology. Second of all, because we were in a remote area we had to carry spares and have someone on site that could carry out repairs. With everything uniform, we didn't have the drama of having to deal with a variety of makes. We could shift components around as we had spare parts on site that could fit any machine."
Q: Landsborough Highway is a pretty remote location, did you have the same level of support as your other jobs?
Tom, "We sent one of our surveyors in to do a training course with the local Trimble dealer, SITECH Construction Systems, just after the project kicked off.  This covered all the basics and troubleshooting and it was really great to have someone on site at all times that knew what was going on with the machine control and the data. We also had a spares kit on site with everything we might need which was replenished when needed."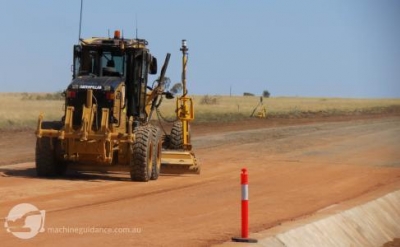 3
Q: What about servicing of parts?
Tom, "The service side of things worked like clockwork as well. Those working on the project were doing Fly In Fly Out (FIFO) ten days at a time so, if there was anything that needed to be repaired, we'd take it in on a Friday morning and it'd be finished for us to pick up on Monday afternoon ready to fly back out to the site again. It was a brilliant system and meant we never had downtime."
Q: We heard something about custom-made base station trailers - can you tell us some more about that?
Tom, "Because the project was FIFO we had to tackle the issue of security with our base stations. We ended up having the base stations fitted into custom-made trailers that were solar powered and completely self-contained. They worked perfectly. Not only were the base stations portable, we could also store them securely over the breaks on local farms well off the road."
Q: So it's all wrapped up now then?
Tom, "Yes it is. We would have been all wrapped up in September 2013 as intended but we were asked to repair an extra four kilometres of road, so we downsized the crew substantially and finished up at the end of 2013."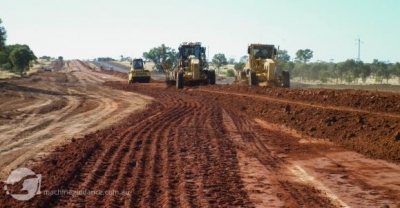 4
Landsborough Highway rehabilitation in numbers:
-
117km of flood damaged road
-
68km needing full reconstruction
-
70km side track construction for diverted traffic
-
38 floodways rehabilitated
-
46 existing drainage lines extended or replaced
-
14 graders with Trimble GCS900
-
4 Trimble Base Stations - 2 on trailers
-
3 Trimble S6 Total Stations
-
11 Trimble SPS Total Stations
Credit Source
Article courtesy of SITECH Construction Systems - your Trimble construction technology provider for Qld, NT, Vic, SA, Tas and PNG. Find out more at www.sitechcs.com.
Return to Articles