Intro
In 2016, technology will continue to provide increased accuracy, flexibility and jobsite safety, while further connecting the field to the office and, ultimately, helping construction companies build better products, faster. Three areas playing an important role in 2016 include BIM, a connected worksite and GPS positioning technology.
BIM and Building a Constructible Model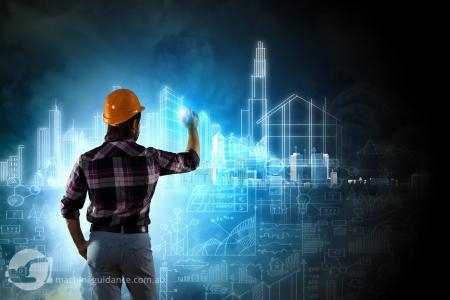 BIM and Building a Constructible Model (2)
For years, construction companies have realized the benefits of modeling software. These days, it's fairly typical to see companies using software to take third-party information from a design package and create a model for use in the field. The next generation of civil engineering and construction software will provide a much broader scope of capabilities.
The goal is to build a constructible model with rich "intelligent" data that will serve as the foundation of how contractors plan and execute construction projects. With intelligent modeling, users can add and remove information on the fly while simultaneously looking at multiple ways to perform construction work instead of making manual modifications.
The ability to build constructible models is significant because it will enable designers and engineers to run multiple scenarios quickly and easily that accurately translate to a constructible model that contractors can effectively build against.
In addition to building and sharing high-quality models, modeling technology is also evolving to allow design scenarios to be visualized beyond the confines of 3-D. Better integrated camera systems that capture 360-degree digital panoramas and geospatial information will share information with 3-D modeling software packages.
Pairing this sort of interactive modeling with intelligent data frees engineers and architects to quickly analyse changes and "what if" design scenarios in the context of the physical environment. The potential impact is huge for saving time on rework, accelerating the building phase and ultimately producing higher-quality projects.
A "Connected" Worksite
In 2016 and beyond, the construction industry will continue to see technology that brings more visibility and connectivity across a project. The connected worksite continues to develop throughout the entire construction workflow.
Today, contractors can take a plan that was created in one software application and use it in another application to track how teams are performing against that plan. As the office becomes more connected to the field, the need intensifies for a more holistic view of the jobsite, each person, and every machine's progress to plan. Additional machines, assets and individuals are required to connect into the GPS-enabled digital jobsite ecosystem.
With a digital construction site, contractors can optimize earlier project planning phases and close the loop between real-time information from the field and the office. Developments in this area will offer improvements in planning and more up-to-the-minute scheduling.

IMAGE
More Automation, Training for Up-And-Coming Contractors
More Automation, Training for Up-And-Coming Contractors (2)
Keep an eye on the push to integrate GPS or GNSS positioning technology beyond the surveyor and the machine. GPS is more than just the data point it produces; the value it provides is its application to quality, progress, increased efficiency and safety on the construction project. Effectively harnessed, these factors will drive competitive advantage for any construction business.
With an aging workforce and tighter integration of GPS technology and construction equipment, the industry will also continue to see an emphasis on providing more education and training opportunities for individuals earlier in their career path. Scarcity of experienced machine operators in the construction space makes this particularly significant.
With a greater emphasis on training, less experienced operators proficient in machine control technology can save contractors money by performing higher accuracy work ahead of schedule. Using machine control and 3-D design models in the cab of the machine, operators can become more productive and self-sufficient, and can grade more accurately the first time around.
The Big Picture
When it comes down to it, even the most sophisticated and cutting-edge construction technology is only as good as the people who are using it. Contractors that value their personnel and provide technology training early and often will see the biggest benefits on the jobsite. The future looks bright for contractors that make an effort to add more value to their machines, while also empowering everyone on the jobsite.
With the ability to build meaningful constructible models that crews can work from more productively and safely, contractors will be able to optimize workflows in terms of planning, design, scheduling, construction and maintenance better than ever in the year ahead.
Credit Source
Ryan Kunisch is Director of Marketing and Product Development for Trimble's Civil Engineering and Construction division. In this role, he is responsible for managing and marketing Trimble's portfolio of precision location, machine control and software technologies. He also leads the division's merger and acquisition efforts and has previously held the position of the division's Financial Controller.
Spare
Return to Articles