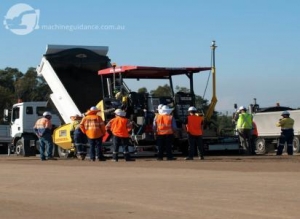 Introduction
Introduction
The emerging use of 3D machine control technology is having a fundamental impact on various paving projects in Australia and around the world. Probably the biggest-profile paving requirements are those used in high-speed motor sports such as Formula One, with highly complex designs and demanding specifications that can be better achieved with 3D paving technology. Equally as important are the requirements of airport runways such as China's Kunming International Airport where 3D paving has outperformed conventional means. Machine control paving technology can also improve the efficiency and speed of highway re-surfacing and construction, as proven on Oregon's Interstate 84 and Utah's Interstate 15.
Studies by the US Federal Highway Administration highlight the importance of achieving road smoothness in terms of fuel consumption and road longetivity. A recent Brisbane project proved that with the use of machine control paving, even sub-standard subbase materials can be overcome with the help of machine control paving technology allowing for a smooth and reliable final road product.
The effective use of paving can have numerous benefits to both the asset owner and the end-users. Equipping paving machinery with accurate machine guidance survey devices can ensure the full efficiency of this construction process can be realised.
Formula One Paving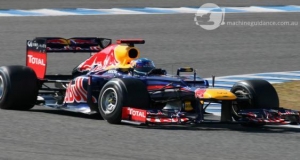 Formula One Paving (2)
When charged with constructing the first purpose-built F1 track in the USA, 3D machine control paving technology allowed the contractor to meet and even outperform the highly complex design, while prescribing tight elevation and smoothness specifications
The Circuit Of The Americas (COTA) project, entailed 5.4km of track and a 3.6km2 site with a budget of US$350m. The amount of stress this pavement will undergo is tremendous - and it's not downward stress, its shear stress. As a result, the specifications for paving were extremely stringent. These include very tight gradation requirements on the aggregate and extremely high performance requirements for the asphalt. The contractor also had very tight control factors relative to temperature and consistency of the material itself.
Knowing that the completed track surface needed to assist F1 drivers travelling at speeds of up to 321km/h and negotiating 90° turns or tighter, and with Grand Prix race overseers the Fédération Internationale de l'Automobile (FIA) insisting on precise track specifications to maintain driver safety, the COTA project team from Austin Bridge & Road set about completing the circuit's top four layers: the flex base, an asphalt base course, an intermediate course, and the wearing course. They needed to deliver the asphalt to the pavers at a consistent temperature and without interruption. It was critical that they progress the pavers, ensuring a consistently placed material thickness that did not exceed a 3mm tolerance. This was a big challenge!
With over 540,000 tons of flex base / asphalt materials, the COTA track construction required 14 different layers to meet the strict specifications set out by the engineers. Technology was used throughout the construction phases to ensure that these very tricky specifications were met each step of the way. The 3D technology used was able to be moved from dozers and excavators to graders and compactors to reduce the investment required, and also from pavers to milling machines and back again.
Throughout the construction phase there were a number of design changes which in some cases required the contractor to shave an area down to better transition a curve. Having the ability to move the major technology components from the paver to the milling machine enabled the contractor to reach the new design quickly and accurately without the added expense of a new technology investment.
Additional construction challenges arose such as the requirement to pave up steep hills, underneath bridges and up against concrete walls. All of these were able to be overcome with the use of machine control technology.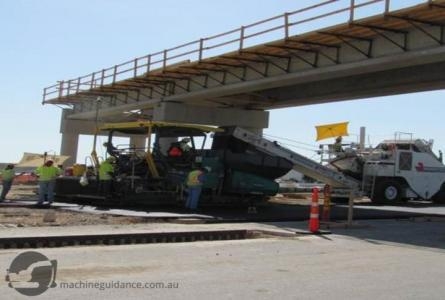 LHS Image - Under Bridge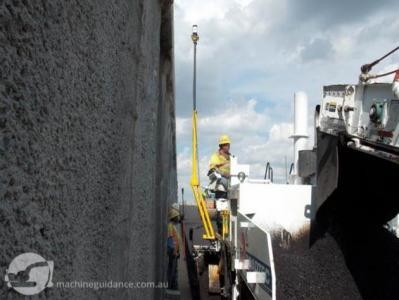 RHS Image - Concrete Walls
F1 Contd
Another major prerequisite of the project was the need to clean up inconsistent design data which did not allow for smooth 3D paving. By using a very powerful 3D design office package, the project was able to join lines with small gaps, overlaps and misalignments at their end points, as well as identify areas which lacked adequate line work to meet the tight specification.
If you were to show all the requirements and challenges of constructing a F1 track to most paving companies, they'll likely say the third course is near impossible to achieve, while the top, final course would be impossible. Thankfully with the use of machine control technology and experienced professionals this project was successfully completed within specifications.
Paving for Planes
Kunming International Airport is an important regional hub in southwest China. In 2010, the airport handled more than 15 million passengers, far beyond its intended capacity. This volume of passenger traffic made Kunming Airport the seventh busiest airport in mainland China. On top of that, it's the seventh and eighth busiest airport in terms of cargo traffic and aircraft movements, respectively.
With high-growth expected to continue in the region, China's National Development and Reform Commission approved a feasibility study to examine the need for the construction of a new airport. By 2020, the project will have the ability to handle 38 million passengers annually. The new airport will have one 4,000 meter long and 60 meter wide runway, and another 4,000 meter long and 45 meter wide runway. It will also include a 550,000 m2 terminal building, a 2,800 m2 tower as well as other supporting facilities such as air traffic management and fuel supply systems. The project is estimated to require an investment of nearly US$3.6 billion.
Constructing the two new runways at the airport site was one of the most critical components of the entire project. Confident in the results achieved with Site Positioning and Grade Control technology, the project owners decided to invest in 3D Paving and Compaction technology as well. Both CBM and asphalt paving were completed using 3D technology delivering significant improvements in productivity and overall time savings. The contractor was able to pave to a 5mm accuracy reducing the requirement of any costly rework.
All runways require increased durability, stability, and load-bearing capacity. As a result, the compaction process on these type of project are even more critical. To manage these inherent challenges, the contractor invested in Compaction Control technology on 20 compactors at the airport site. They each provided continuous compaction control to ensure the sub-surface materials were compacted to the appropriate and precise target densities. The on-machine display and collection of pass count data, Compaction Meter Values (CMVs), and cut/fill information allowed the team to identify any potential weak areas immediately. The system also provided guidance on how to make necessary corrections early in the build process, which saved time and money. Inside the cab of the machines the operators could instantly see an accurate map of compaction measurements and view compaction results in real time.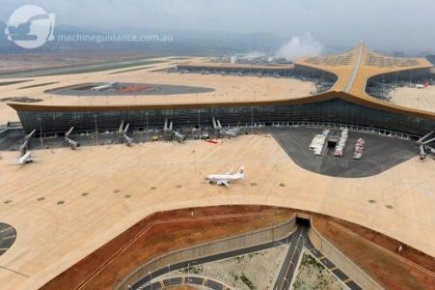 LHS Image - Airport
RHS Airport Image
Highway Pavements
An incredible example of just how much of an impact technology can have on a project was demonstrated with the milling and repaving of 30km of Interstate 84 in Oregon. The Oregon Department Of Transport (ODOT) has implemented different surfaces for the fast and slow lanes on two-lane interstates. The fast lane has an asphalt finished surface while the right-hand lane is concrete, plus there are asphalt shoulder lanes flanking both lanes.
The contractor was required to mill the existing asphalt to establish the bottom for the new road surfaces. There were four different depths of asphalt milled across the road section from 50mm to 300mm. To handle this complex milling project, Oregon Mainline Paving invested in 3D technology and were able to finish the project in one year, which was half the time proposed. In 24 days they milled 15km of highway, 9 passes across. The contractor stated that they honestly couldn't have chopped 50% off their schedule and with the high-quality results if they weren't using 3D technology.
Another project with some impressive numbers was the expansion and reconstruction of 38km of Interstate 15 in Utah. Included in the job are 106 lane km of cross-street improvements, the rebuilds or replacements of 10 interchanges, 63 new or modified bridges, 12 temporary bridges, retaining and noise walls, and all the drainage, utility, electrical support for the finished interstate road. The $US1.7billion project includes 1.5 million m3 of roadway excavation and almost 5.5 million m2 of asphalt and concrete paving requirements!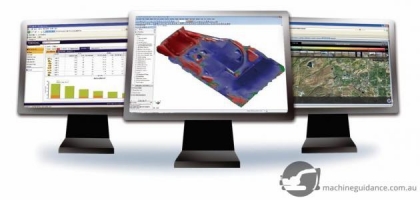 This design-build project was massive, requiring 1,600 workers. The project decided to use the latest technology throughout. Jarred Rico, the assistant survey manager for PRC believes that the technology was invaluable on a project like this, and that they were more efficient, productive, and managed a safer worksite.
Fortunately this technology allowed the contractor to build and adjust the digital model as they progressed along the project, and encountered soil changes, differing community standards from city to city along with a lot of weather conditions that weren't in the plans! Since they used a 3D paving systems on the asphalt base, the contractors not only ensured that they used the proper amount of hot mix asphalt, but they also saved on concrete yields because the concrete use is a direct reflection of the thickness, quality and consistency of the asphalt. Additionally, not having to use a wire line saves a lot of labour, accidents, and rewiring.
Using the technology also allowed PRC to monitor and document its progress. The contractor checked their work every 3 meters to ensure quality. Their production was faster and their end-result quality was better.
With such a massive and complex project, communication was critical. Errors not only can be costly, but they could eat up time. PRC decided to use the Connected Community, which is a web-based service that allowed them to communicate in real time with their people and machines on the site. The engineers and surveyors can literally sit at a desk and make the required changes to the digital design and send it out to everyone on the site. It eliminates the cost and time of driving around the job site, plus increases safety by not having to have people climbing in and out of machines every time there is a design change. It would be a nightmare to have to manually get changes out to 80+ 3D machine systems and data collectors on the site.
In terms of project success, I-15 CORE was delivered $US260 million under budget and 48 days early largely thanks to machine control technology and processes.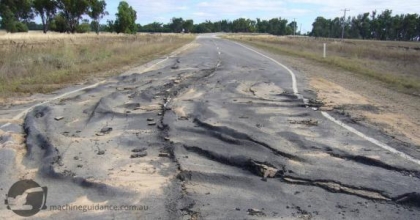 Road Smoothness
Road smoothness affects rolling resistance by influencing friction between the tire and the road. A very thorough investigation on this issue was conducted by the Federal Highway Administration at the WesTrack pavement test track in Nevada. The study discovered that a reduction in fuel consumption by 4.5% could be achieved in trucks that were operating on slightly smoother roads. A number of other studies reconfirmed this, and even attributed greater fuel savings with cars. A greater percentage in fuel saving could be expected when comparing some of our roughest roads with some of the newly construction roads that deployed 3D technology.
By reducing fuel consumption, motorists are also reducing their operating cost and carbon footprint. Additional studies have shown that increasing road smoothness by 25% results in nearly a 10% increase in the life of the road, which in turn allows governments to use their budgets to invest in more new roads and less maintenance.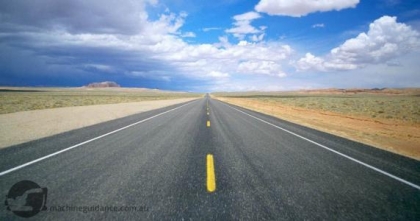 Sub-Standard Subbases
Everyone in the paving industry knows that there are many challenges when it comes to laying asphalt with tight tolerances, but these can be made even more difficult when the lower layers haven't been constructed correctly. A recent project in Brisbane highlighted how the use of 3D technology can do the "impossible" for complex geometry or shapes accurately and efficiently, while opening up a whole new market for road base paving.
A paver is design to pave long smooth runs of road, on highways, freeways and airport runways. The design for this particular job was highly complex, with grade changes from +2% to -2% every 25m. The screed of the paver had to react very fast to achieve the design and meet a tolerance of +/- 10mm for the road base. This major challenge was made even more difficult due to a poor subgrade below, where the surface varied from a maximum of 43mm high to 77mm low. This complex design was required to achieve the desired water flow to drainage pits on the site, which made the project look impossible.
The following is a snapshot of the survey points taken to demonstrate the tight tolerances that are achievable with such a difficult design when using 3D technology. These points were taken on a 4.5m wide grid, a minimum distance of 1m from any pit or post.
Manually Paved Section Automatically Paved Section
101 survey points 45 survey points
48% within 15mm tolerance 90% within 10mm tolerance
Standard Deviation of 28mm Standard Deviation of 6mm
It is now very common in Australia to see machine control technology on a grader to construct the road base layer, but graders can cause segregation of material that has the potential to cause road failures. The trend is now slowly changing to use a paver that will eliminate or significantly reduce the material segregation problem due to high compaction and high vibration of the screed. In the past it has been very difficult to pave road base to grade and achieve the speed required with traditional methods, but now with the introduction of 3D paving technology it is possible.
During the 1980s and into the 1990s, the Main Roads Department in Queensland specified road base pavements to be paver laid. Back then there were quite a few contractors constructing roads this way, but now there are only a few contractors specialising in it. This is most likely due to the under supply of experienced road base paving contractors, and the tight time frames required for construction which usually leads to the use of a grader with 3D technology. Recently Main Roads Queensland have again started pushing for contractors to lay their road base pavements with asphalt pavers and machine manufacturers and technology providers are seeing an extraordinarily high enquiry level as a result.
Conclusion
Conc2
To wrap up this article I would like to bring things back close to home and quickly mention that 3D technology is not only for big projects, but even small family-owned and operated businesses can deploy 3D technology to save time and money by reducing rework and material wastage. Brosnan Earthmoving & Road Contractors who are based in Rockhampton, Qld have recently been able to use technology to achieve accuracies of 2-3mm completing a residential subdivision which is just fantastic!
The world of machine control has a lot to offer any paving operations, from highly specialised race tracks and airports to road and highway re-surfacing and new construction. I would encourage any paving contractor or paving project to consider the benefits of embracing 3D technology. Your local SITECH dealer would be more than happy to discuss these options with you, or you can learn more about Trimble paving technology at www.trimble-productivity.com.
Happy paving!
Return to Articles