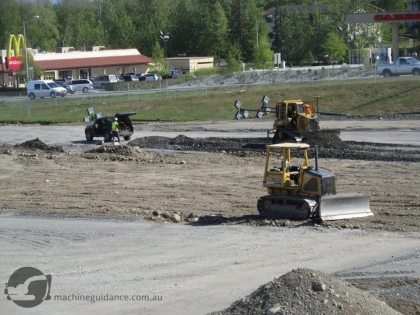 1
Palmer, Alaska has just under 6,000 residents, but as a commercial and cultural center for the region it draws visitors from well beyond its city boundaries. Come the end of summer, the annual week-and-a-half long Alaska State Fair, located in Palmer, can draw more than 300,000 visitors. The fairgrounds are located approximately one hour north of Anchorage, which helps explain how Palmer and the fairgrounds can draw such large numbers.
An indicator of how Palmer, which was established around a 1930s New Deal farm colony has changed, can be seen in the growth of the Palmer big-box Fred Meyer store. Built about 10 years ago and the smallest in Fred Meyer's retail network at 66,000 square feet (20,000 metre), the Palmer store was built then much to the chagrin of many locals who feared the end of their quaint, small-town community. Fred Meyer is owned by The Kroger Co., one of the nation's largest grocery retailers.
During the years, Palmer residents made peace with its Fred Meyer store. The location is big enough to offer groceries and other items including a little clothing - socks, jeans, and underwear. Recent scuttlebutt was that the store was so successful it was outgrowing its "small" space.
When Palmer community affairs manager Melinda Merrill confirmed that Portland-based Fred Meyer plans to build a new store on the other side of the Glenn Highway from the current location, she pointed out that although the store was small it had significant sales volume. She said: "The business is big. Our community can support a bigger store. It does far more business than most stores its size."
With the demolition of a vacant 30-year-old shopping center, the site was readied for the new 100,000 square foot (30,000 square meter) Fred Meyer. The new store is expected to cost $US20 million to $US30 million to build, and is expecting to add 100 jobs.
The big-box builder giant ESI or Engineered Structures Inc., Boise, Idaho, won the contract as general contractor for the Palmer Fred Meyer. ESI concentrates on commercial construction, primarily for major retail outlets such as Fred Meyer, Albertson's, Wal-Mart, Staples, Home Depot and other big-box stores in all of the Western states.
"We were sub-contracted, by ESI, to perform the civil site work, and site balance to include import-export, waterline installation, storm drain installation, sewer installation, and all excavation for the concrete foundation, sidewalk, and curb," stated Scottie Johnson, project manager with Dirtworks, Inc., Palmer, AK. "The contract value for our work on the project was $US1.9 million."
The residential and commercial construction company, Dirtworks, was started in 1989 and has expanded gradually ever since completing projects for individual residents to large, complex municipal and commercial projects. The company has also completed work for the Alaska DOT and Public Facilities.
The site had a small commercial building, which housed a grocery store until 2010. That store opted to build a new location across the road too, on the other side of the Glenn Highway where the new Fred Meyer store is being built. Plans call for the new Palmer Fred Meyer to give shoppers more of the full-line amenities found in larger Fred Meyer stores. The store will feature more furniture, apparel and garden supplies, as well as expanded natural food sections.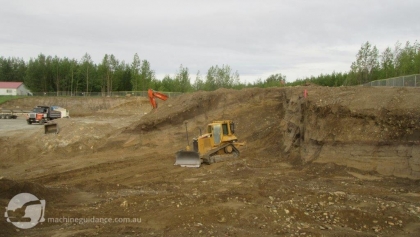 2
The condition of the 10-acre site was flat with a large, approximately 66,000 cubic yard (50,000 cubic metre) hill that ran along the back and around the corner. The majority of the jobsite was previously occupied by the grocery store. But in order to fit the new bigger Fred Meyer store the site needed to be bigger. The soil was sandy gravel with big rock and silty brown topsoil type material. Dirtworks approached the site as a site balance project, utilizing the hill on the back half of the property for fill.
"The project was to be started around the first week of May 2016, but we were able to start in April," Johnson said. "We were given a month to get the majority of the site balanced and the new building slab area approved and ready for the footings to be dug. "
For the project, Dirtworks used three mid-size hydraulic excavators that included a Case CX460, Hitachi ZX350LC-6, and a Hitachi EX200LC-5. They also had a pair of 40-ton rock trucks, a Cat D-5K dozer equipped with Topcon 3D-MC² GPS machine control system. They also used a combo Topcon HiPer V receiver rover and base station and a hand-held or rod mounted Tesla data collector.
"The biggest challenge on this project was the tight deadline we needed to adhere to so that the new store could open on time," said Johnson. "Two things that helped with these challenges was the ability to start a month earlier than originally scheduled, and having our dozer equipped with GPS machine control, which helped us quickly achieve accurate grade."
There were no early completion incentives, but there were penalties for the general contractor if milestones were not met.
The Topcon 3D-MC² dozer system is designed to achieve finish grade with the machine traveling at a faster speed. Traditional finish grading with a dozer generally will take multiple passes at slower speeds.
"The GPS machine control system meant we could run the dozer faster and with its accuracy we could pretty much achieve finish grade in one pass," Johnson stated. "Less dozer time on the job translates to less fuel, less machine wear, and we were able to keep the project on schedule and on budget."
For Dirtworks the use of machine control and site positioning technology is new to them.
"We learned about this technology from GPS Alaska, our local Anchorage Topcon dealer," Johnson said. "They stopped by our office and talked about the equipment with us and we liked what we heard. We actually bought a Topcon Tesla handheld data collector and two HiPer V poll-mounted base and rover combo GNSS receivers. We didn't have a job for the equipment at the time or any experience with it, but made the investment because I always thought doing things with tape measures, stakes and lasers was slow and time consuming. Once I was told that you will have cut-fill information anywhere you set this thing within the project I was sold."
Dirtworks currently owns four HiPer V base-rover combos, two Tesla data collectors, and a dual 3D-MC² dozer system.
The Topcon HiPer V base-rover combo is considered an all-on-the-pole GNSS receiver that can use 226 channels to lock in a satellite signal.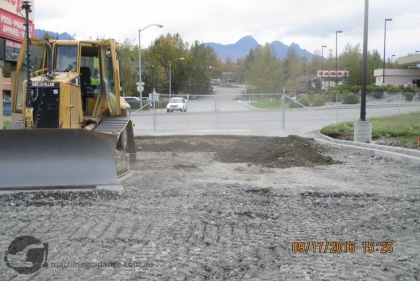 3
Smaller than a tablet computer, the palm-size, touch-screen Tesla data collector is designed to be flexible. It can be hand-held to provide a vertical screen orientation or affixed to the GNSS receiver rod to provide a horizontal-screen orientation.
"Our experience so far with GPS machine control and site positioning technology has been great," stated Johnson. "It quickly is becoming something where we are almost forgetting how to work without it – interestingly, even for our guys that have spent their entire careers not using this kind of technology, they are almost lost without it now!"
For the Palmer Fred Meyer project, Dirtworks used a HiPer V base-rover combo, a Tesla data collector, and the GPS grade control system on its dozer. The Topcon systems were used throughout the entire project to control the production.
"The thing that is so nice when using technology is that even on a site this big with a good map and model we can hand the data collector to anyone on the crew and get usable information," Johnson explained. "We bid the project to be a site balance, using onsite materials to bring the site up to grade by removing the material from the back of the property and spreading over the remainder of the site.
"Our figures were based on the provided geo-technical report which provided a bore log in the top, tallest and fattest part of the hill, showing gravel from top to bottom. Only problem… as it turned out, where they punched the bore log happened to be the only area where there was usable gravel. Just beyond this bore log, the gravel disappeared and became unusable silty material. This meant that the project went from a quick excavator and rock-truck show to a highway truck job. The silty unusable material had to be hauled away and better usable material needed to be imported. It is always quicker to move material onsite with rock trucks than it is to use highway trucks. So, we needed to make sure we were always able to run the maximum amount of highway trucks that the loader at the off-site pit could handle, along with the help of our excavator loading trucks off site.
"This is where the machine control on the dozer became so key. I do not believe that if we were using traditional hubs and stakes, we wouldn't have been able to maximize the trucks like we did in order to keep the fast pace we needed."
Johnson concluded that without the Topcon systems used on the Fred Meyer site, the project would have required more people, time and "just energy spent taking the necessary steps to ensure the site is moving in the right direction."
For Dirtworks, the adoption of machine control and site positioning technology appears to be changing how they approach their market.
"I don't know yet if our new technology will make a difference on how we bid against the competition," said Johnson. "It has given us confidence knowing that we will have complete grade control of a project site no matter what the size, utilizing minimal personnel."
Credit Source
Jeff Winke is a business and construction writer based in Milwaukee, Wis, USA. His portfolio can be seen at https://jeffwinke.contently.com.
Return to Articles